Dale Goodwin – who just celebrated 35 years as Gonzaga's storyteller – sees the miracle of life and God's blessings everywhere he looks.
By Sidnee Grubb ('18)
The clarity of Dale's memory is astounding. He can remember everyone's name, any significant date and descriptive history. Every vivid memory contains a story. Every story tells of sunshine through the clouds and the everyday miracle.
The little stresses and annoyances that trip others up? Dale glides through them. His Jesuit drive for "magis" or more? A pure love for the people of this university.
After finishing a degree at Washington State University and a short stint at The Spokesman-Review, Dale received an offer from Gonzaga Athletic Director Dan Fitzgerald to become the sports information director. His first major task? Organizing the massive and memorable 1981 Washington State University vs. Gonzaga men's basketball game, a personal competition between his alma mater and his new place of employment. Dale says, "The minute the ball went up, I knew I was a Zag. It was amazing!"
Other great transformations took place during his tenure as SID. He met Mary, the real love of his life, and they married on Pecarovich Field. He also converted to Catholicism, which drew him closer in relationship with God. At Dale's confirmation, then-university vice president and good friend Fr. Art Dussault was sitting in the back of the university chapel when the ceremony ended. Dale says, "Our eyes met, he stood up, waved his cane at me and said, 'It took us a while, but we finally got you!' "
In 1989, Dale became director of public relations and stepped confidently onto a new court – university administration and public relations. The work he would do for the next 22 years would challenge and change him. He was buoyed by his workmates who supported him through Mary's five-year bout with pulmonary fibrosis and successful lung transplant, which demonstrated to him what a caring community Gonzaga is. He always found the positive in some of the university's most trying issues, and helped the community recognize the good here: the racial harassment in the Law School that turned into Spokane's Community Congress on Race Relations, and the arrest of a high-profile student-athlete who, with tremendous university support, blossomed into a community servant and professional player.
"There's not been one day that I've ever gotten up in the morning and thought 'Oh jeez, I've got to go to work today.'"
Today, as communications manager/senior writer and editor for Marketing and Communications, Dale says he is happy to be "going back to my roots where I did more writing, telling the stories of our people."
A recent favorite assignment was honoring former President and Chancellor Fr. Bernard Coughlin's impact on the University over his 42-year career, which came down to the relationships he built, something Dale could certainly identify with. In fact, all the stories Dale recalls have a similar theme: cura personalis, or the care for the individual. "That's what makes Gonzaga a very special place with a very big heart."
There were moments during his reminiscing that emotion nearly overcame Dale. He paused as the words caught in his throat. His eyes showed the overwhelming feeling living there: joy, love and blessing. It has always been about more than just the work to Dale. He glories in kindness and service. He is an admirer of the spirit every Zag carries within.
"I love this place. I love the people that I work with, all of them. I feel so good going to work to represent an institution like this," says Dale. "There's not been one day that I've ever gotten up in the morning and thought 'Oh jeez, I've got to go to work today.' Not one. I've had some ups and downs here but not one day did I ever regret representing this place and its people."
A MIRACULOUS QUALITY about Dale is how easily he dismisses the role he has played in some powerful stories himself. We bet our readers agree. Have a story of Dale to share? Email editor@gonzaga.edu.
---
On occasion, Gonzaga Magazine likes to take a peek inside the office of a faculty member and see what stories emerge. Here, we show the work-home of Dale Goodwin, communications manager, senior writer, and editor for Marketing and Communications.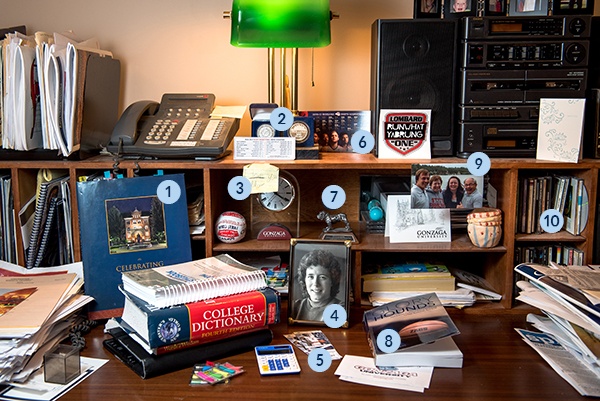 "Celebrating Gonzaga: The University and Its People" – After two years of research Dale outlined the book and the stories that embellish who we are as a Jesuit, Catholic, humanistic university, ranging from this little Italian Jesuit who feverishly recruited other Jesuits to build a college here, to the little tyke who'd serve as a mascot in his first of 12 years on campus, only to become one of the most heralded athletes in school history, and later, a doctor. The book was published on the occasion of Gonzaga's 125th anniversary in 2012.
Dale helped plan parts of celebrations of Gonzaga's 100th and 125th anniversaries, and these two coins were minted to commemorate those occasions.
A post-it note from Dale's then 8-year-old daughter reads, "I love you Daddy. Love Brook," the most cherished item in his office and something he looks at, and finds inspiration from, every work day of his life.
Dale took this picture of his friend, Mary "Scooter" O'Neill ('84), in the baseball press box at Pecarovich Field, the site of their wedding five years later on Aug. 19, 1989.
When McCarthey Athletic Center opened in 2004, staff and faculty were allowed to get two tickets to home men's basketball games. However, Dale had four family members, so he rounded up the dough to buy season tickets, which the Goodwins have been buying since Dale left Athletics in 1989. The cost of season tickets in the new Kennel is considerably steeper than in the old Kennel…but well worth it.
The men's basketball schedule features one of the classiest young gentlemen who's ever blessed the program, Przemek Karnowski, who also happens to be the winningest individual basketball player in NCAA history.
This bulldog statue with Dale's name engraved was given by the host to GU team members for participating in the Manufacturer's Hanover Basketball Classic in 1985 at Iona College in New York, the longest trip Dale ever took with GU basketball to that time.
Dale helped a little with research for Bud Withers' newest book on Gonzaga, "Glory Hounds," published in 2016. It's a great read for anyone loyal to the Zags or wanting to understand how this basketball phenomenon happened. Great stories, and a great resource for a storyteller like Dale.
Dale's family includes son Ben ('17 Biochem), wife Mary ('84 Accounting), daughter Brook (high school senior, who recently decided to attend GU this fall), and Dale ('86 Master's in Teaching). His life's biggest blessings are captured in this photo.
Music gives Dale calm (Enya); and energy (Doobie Brothers). By the way, Dale saw Paul Revere and the Raiders in Kennedy Pavilion in 1969. First introduction to Gonzaga.